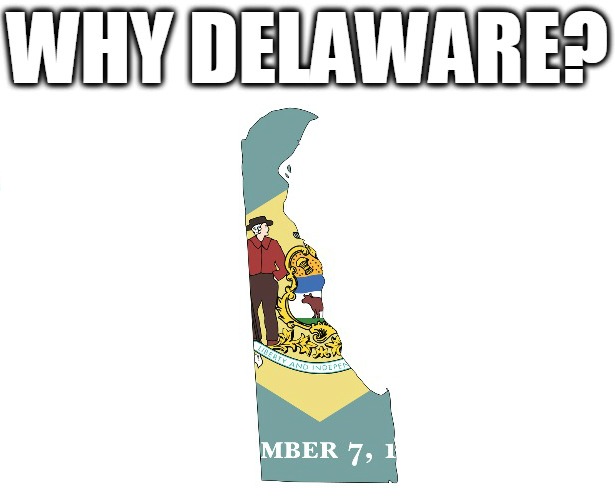 It can be intimidating to choose a state to incorporate in. You don't need to incorporate in the state where your business physically resides. Instead, you can form your company anywhere. Which is the best state to incorporate in? Here are some things to consider.
Things to Consider When Choosing a State to Incorporate
What is the best state to incorporate? Many people choose Delaware to incorporate (or form) their LLC or corporation. Here are a few things to consider when making your decision:
Business-friendly law: Choosing to incorporate in Delaware means that Delaware law will govern the internal affairs of the company, including owner versus manager disputes. Furthermore, by incorporating in Delaware, you have access to the Delaware Court of Chancery, a specialized internationally-respected business court that makes expedient and well-reasoned decisions.
Experience: Some of the best business attorneys in the country become judges on Delaware's Court of Chancery. Incorporating in any other state may result in capricious juries or inexperienced generalist judges deciding your case without the depth, protection or sophistication of Delaware corporate law.
Popularity: More than 60% of Fortune 500 companies are incorporated in Delaware. The state is the domicile for many major corporations and LLCs, including Facebook, Yelp, Twitter, and Google.
What Is the Best State to Incorporate?
Delaware is the most popular state to form an LLC for people who shop around different states looking for the best state. Generally, if you want the strongest protection, you should form your LLC in Delaware.
The Delaware LLC is easy to maintain and allows for members to choose how the LLC is taxed. Delaware's reputation of protecting business owners from creditors is widely known by businesses of all sizes. Delaware also protects managers from member lawsuits because Delaware protects virtually all business decisions, provided the decision is not self-dealing.
What Is the Cheapest State to Incorporate?
Delaware remains one of the more affordable states in which to form an LLC (14th lowest filing fee of 50 states). Delaware also ranks well for incorporation fees (17th lowest filing fee of 50 states). However, it is a mistake to choose your state of formation based solely on formation fees and annual fees. Shopping solely based on incorporation fees may save a few dollars on incorporation, but you will get an inferior bullet proof jacket that won't protect your assets when you need it. A penny wise and a pound foolish.
Many businesses incorporate where the business is physically located, without consideration for that state's reputation for business law. It is reasonable to consider initial and recurring costs, but the primary purpose of forming an LLC is to shield owners against being liable personally for the debts and liabilities of the business. This is why Delaware remains the best choice in which to form an LLC or incorporate your business.
Where Are Most Companies Incorporated?
Delaware is the most common state to incorporate in. The State of Delaware is a leading home for both domestic and international corporations. More than 1,000,000 businesses have made Delaware their home. Majority of the companies listed on the Fortune 500 call Delaware home, including Facebook, Yelp, and Wal-Mart.
What Is the Best State to Incorporate an LLC?
A Delaware LLC is generally superior to forming an LLC in any other state. The internal affairs of your LLC will be governed under Delaware business laws. These laws create a "veil" which is more difficult to penetrate and well-respected than in any other state. This means that your personal assets are more protected from creditors. Entrepreneurs also like Delaware's Court of Chancery where judges are business experts without juries. This typically results in more just, predictable, and quick decisions.
Best State for Corporations and LLCs
Owners Delaware LLCs and corporations are given the strongest legal protection available by any state. Piercing the corporate veil, or making individuals personally liable for claims against their business, is very unlikely in Delaware. Delaware explicitly makes the charging order the sole and exclusive remedy of creditors of LLC members, meaning that creditors of members can only receive distributions from the LLC, and not take over that member's interest or control foreclosure or liquidation.
Benefits of Incorporating in Delaware
Incorporating a business in Delaware provides economically valuable benefits to the parties involved. These protections are superior to those of any other state. Delaware corporations range from single-person consulting companies up to multi-national conglomerates. It is no surprise that more than 65 percent of Fortune 500 companies and over half of the publicly-traded companies in the United States incorporate in Delaware.
Delaware is not just a desirable home for corporations, but also the superior home for LLCs.
Protections Under Delaware Law
The primary reason to incorporate in Delaware is the many protections Delaware's laws and courts offer. Delaware's strong and well-proven asset protection shield protects the personal assets of company owners. This shield protects both Delaware corporations and Delaware LLCs. Additionally, if incorporated in Delaware, a business manager is protected from business owner lawsuits. This is true even if a particular business decision results in a loss to the company. This is known as the "Business Judgment Rule".  It encourages risk-taking on the part of managers who may operate freely, without concerns of personal recourse liability. This gives business managers the freedom to pursue opportunities for higher rates of return and increased growth without judges or juries second guessing their decisions with the advantage of hindsight.
Delaware courts have a balanced approach to promoting shareholder value while protecting managers. Accordingly, the United States Chamber of Commerce has ranked Delaware's business liability protection #1 in nearly every ranking since periodic rankings began in 2002.
Ease of Incorporation
Choosing to have your business governed under Delaware law is easy. No matter where it does business, Delaware law with govern a Delaware corporation's internal affairs.  Simply file the initial incorporation or formation certificate for the business with the Delaware Secretary of State. Although a business may not have an office in Delaware, it is easy to incorporate here as long as the business has a Registered Agent in Delaware. There is no need to have a bank account in Delaware, or even have a business address within the state. The duty of a Delaware Registered Agent is to forward annual notices and court notices to the business wherever it may operate.
Protection for Businesses
The predictability of business law and courts in Delaware enables corporations and LLCs to structure their businesses confidently. This consistent high degree of certainty and integrity delivers added value to business owners. Delaware offers great protection, even when only one individual serves as the Director, President, Secretary, Treasurer and sole shareholder.
Delaware's Outstanding Customer Service
Lastly, the Delaware Division of Corporations' office provides outstanding customer service. This includes options for expedited document approval and filing in as little as 30 minutes. The Secretary of State of Delaware runs two shifts to maintain extended hours to keep the filing office open well-past regular business hours. Unlike the stereotypical image of government service as slow, unpleasant, and ineffective, the Delaware Division of Corporations consistently delivers efficient, consistent service with you and your business as their priority.
Best for You, Best for Your Business
When you choose your business's legal home, you would be wise to file in Delaware. Delaware offers the unique protection of both superior laws and courts. This helps to ensure your assets remain protected and your decisions respected. Delaware provides ease both at start-up and in operation as only Delaware offers such an incomparable level of service and support. Therefore, when incorporating you should choose Delaware as the legal home of your corporation.
How to Incorporate a Business
Business owners can incorporate a Delaware corporation without ever visiting the state and without any experience with the incorporation process. Since Delaware does not keep record of the shareholders of the business, you only need to provide your incorporator a minimal set of information, including (1) the name of the corporation; (2) a contact person and their contact information; (3) names of initial directors and officers; and (4) the number of shares of authorized stock.
The incorporation process with IncNow is particularly simple and involves completing an online order form on that takes five minutes. IncNow submits your filing to Delaware the same business day. Within a few days (or as soon as an hour if you upgrade to the highest filing priority), IncNow will send you signature-ready documents for your new Delaware corporation.
MORE: What You Need to Know About Delaware LLCs